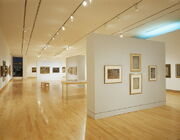 The museum is actually a sprawling campus of buildings with walkways and beautifully cared for gardens between. Some with sculptures. The exhibits are arranged by time period, so that you can circle the buildings (clockwise) to pass forward through centuries and centuries of art, architecture, fashion, armor, weaponry and even furniture and knickknacks. Their Mesopotamian exhibit is particularly acclaimed.

They do have one building at the center point that houses any traveling exhibits that pass through. Such things as Van Gogh or Jackie Kennedy-Onassis' fashions or historical Japanese work have passed through. It's always a surprise, and always a pleasant one.
Ad blocker interference detected!
Wikia is a free-to-use site that makes money from advertising. We have a modified experience for viewers using ad blockers

Wikia is not accessible if you've made further modifications. Remove the custom ad blocker rule(s) and the page will load as expected.