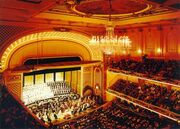 On the weekends (Thursday through Sunday) the music hall treats its patrons to a delight to the sense of hearing. The performers vary (there is a schedule available per season, of course), anything from pop singers on tour to classical orchestras, but they seem to always strive for excellence at Melpomene Hall.
The building is long rather than wide, but the seating is more copious than one might guess when looking at the building from the outside. There are several tiers as well as a number of box seats available for purchase.
Maria Favaloro is the current impresario.
Ad blocker interference detected!
Wikia is a free-to-use site that makes money from advertising. We have a modified experience for viewers using ad blockers

Wikia is not accessible if you've made further modifications. Remove the custom ad blocker rule(s) and the page will load as expected.